Developer Questions
Answered with AI
Mendable helps you quickly respond to support questions by suggesting accurate and actionable answers

Potential Solutions, Instantly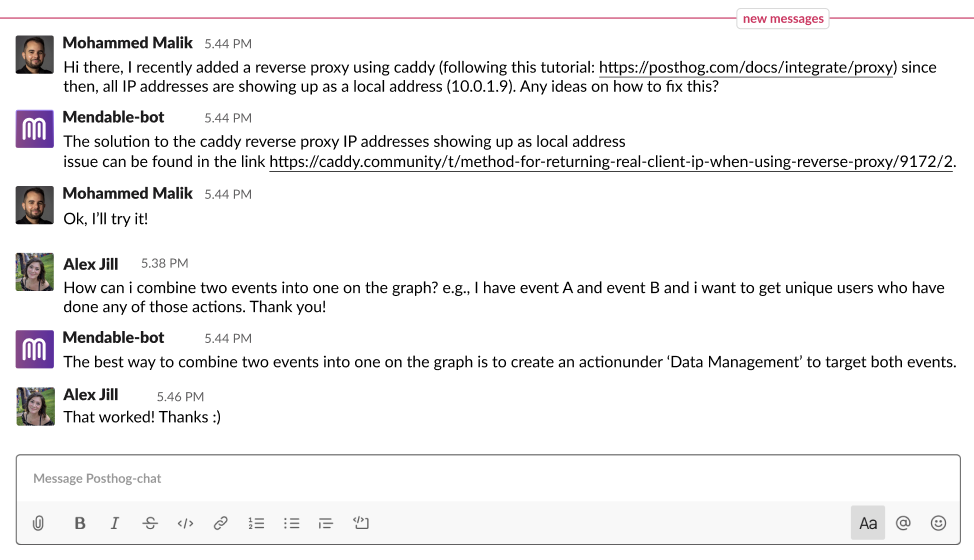 Great support answers with minimal effort
Works with you
Mendable creates solution suggestions for every question but allows you to review, edit, and post them, all without leaving the community platform. This allows you to answer questions more efficiently while still maintaining control and putting a human face to support.
Continuous improvements
Sick of answering the same question over again? Mendable remembers every question you answer and has a built in feedback mechanism, improving its suggestions over time.
Integrates Everywhere
Currently Mendable offers answer suggestions on questions in Discord communities but support for Slack, Github, and more is coming soon.
Reports insights
Mendable automatically compiles and summarizes insights from your community, so you can get important features and fixes on the roadmap
Ready to cut your time answering questions in half?
Frequently asked questions
If you have anything else you want to ask,reach out to us.
Is it free?

It is for Open source projects. If you're not open source, you can use the free trial. We will consider creating a free plan in perpetuity, but we haven't figured out our pricing model yet.

Do you train your AI model with my code?

Currently, Mendable does not look at any of your repository's code. However, in the future we may add it. We will always give you the option to opt out of sharing your data.

Is it 100% accurate?

Like Humans, AI will never be 100% accurate. So we can't assure you that every solution will be correct. We recommend trying the free version to test it out!

How do I cancel my subscription?

Simply log into our platform, go to your account and click on "Open customer portal" button. There you will be able to cancel/modify it through Stripe.

How does Mendable work?

Our application syncs with your documentation and support channels, then uses your docs and previously answered questions to suggest possible answers.

Are you open-source?

Currently, we're closed source. However, we're strongly considering moving towards an open-source model. If you have input here, please message us athello@sideguide.dev.