Introducing the Mendable API
Chat Powered Search
Trained on Your Docs
Answer developer questions automatically with Mendable.
Deployable anywhere with one line of code.

Trusted by top innovative companies Upgrade your docs with AI
Ingest any resources Documentation StackOverflow GitHub Slack Discord

Plus more
Get insights from chats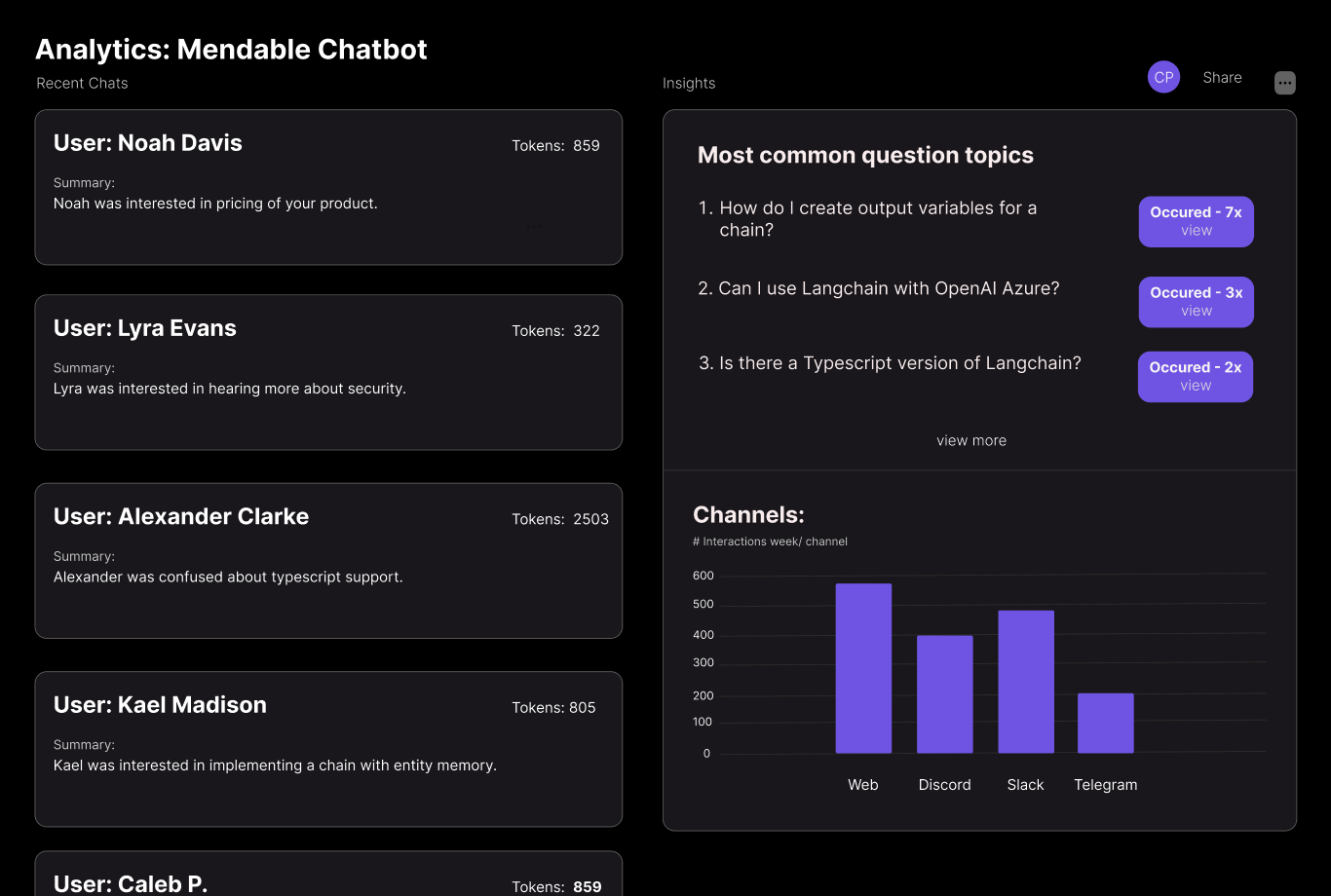 Great community support with minimal effort
Docs Reimagined
Empower your developers to get the information they need, when they need it. We take your docs, community messages, and support questions to provide customized answers for every developers query.
Continuous improvements
With our intuitive thumbs up and down rating system and the ability for admins to edit answers, Mendable's search functionality continually learns and improves.
Integrates Everywhere
Mendable offers a chat powered search bar that you can add anywhere in your docs or website. Support for Discord, Slack, Github, and more is coming soon.
Reports insights
Mendable automatically compiles and summarizes insights from conversations, so you can identify blockers in your docs, aggregate feedback, and improve your developer experience.
You are 1 line of code away from reinventing your docs
Frequently asked questions
If you have anything else you want to ask,reach out to us.
Is it free?

It is for Open source projects. If you're not open source, we have fixed and usage based pricing depending on your preference. Please contact us to learn more.

Do you train your AI model with my code?

Currently, Mendable does not look at any of your repository's code. However, in the future we may add it. We will always give you the option to opt out of sharing your data.

Is it 100% accurate?

Like Humans, AI will never be 100% accurate. So we can't assure you that every solution will be correct.

How do I cancel my subscription?

Simply log into our platform, go to your account and click on "Open customer portal" button. There you will be able to cancel/modify it through Stripe.

How does Mendable work?

Our application syncs with your documentation and support channels, then uses your docs and previously answered questions to suggest possible answers.

Are you open-source?

Currently, we're closed source. However, we're strongly considering moving towards an open-source model. If you have input here, please message us athello@sideguide.dev.